Women's Health Week 2020 – Too anxious for cardio?
---
Massage Therapist Jenny understands that many of us are feeling a little anxious at the moment which is a pretty normal reaction to the unknown. In Melbourne, we are leading restricted lives, which, among other things, limits our exercise choices.
For years we have been told that exercise is a key tool in managing mental health issues, including stress, depression and anxiety. But cardio isn't the right choice for everyone.
Currently, many of us are doing cardio-related exercise unless you have access to specialised equipment. Now we don't mean to state the obvious here but, cardio is called cardio because its primary function is to improve cardiovascular health. (#knowledgebomb). The idea is to load your heart (and therefore your lungs) to improve their capacity and stamina. Everyone knows that feeling when you get out of breath and can feel your heart pounding.
Heart pounding cardio causes you anxiety?
It is totally natural to have a negative association with exercise if you have a history of anxiety.
It's really important to maintain good cardiovascular health and exercise IS a great tool for managing stress, depression and anxiety. But, if you've been a sufferer of anxiety in the past and you're trying to start your fitness journey, you may know what shortness of breath and a pounding heart feels like? You guessed it….a panic attack.
If this sounds familiar to you and has held you back from getting fitter, moving your body or doing the things you love, don't worry! There are many ways you can reframe this negative association.
Cold immersion – turn the shower to cold for the last 30 seconds of your shower. The cold shock mimics the physiological symptoms of exertion and panic. Try to stay in the cold shower for a few seconds, remembering you are in control and can turn the hot on at any moment. Use diaphragmatic breathing or repeat a positive mantra to help you stay calm. Repeatedly try this increasing the time you stay in the cold shower.
Interval training – this can be as simple as adding in a portion of fast pace walking into a section of your walk. Remember that you are always in control, just like with the cold immersion you can use your breathing and a mantra to assist you. Rest if you need to after the faster speed.
Strength training – there are so many myths around strength training. So before I explain how it could help, let me just say:

You won't get big bulky muscles (unless you specifically train for them).
Anyone, man, woman, young, old can do strength training.
Inflexible people can do it too.
Strength training is for everyone
Strength training is a great way to improve your cardiovascular health. It can be done with very simple equipment such as resistance bands, bottles of water or bags of sand or without anything at all – just bodyweight!
One of the great things for people who struggle with anxiety is that the working sets (where you have to do the work) are quite short, so by the time your heart rate is getting up you are usually stopping for a rest period.
Our experienced Williamstown Physios and Osteos are here to help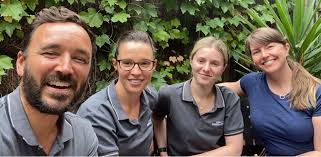 It can be hard to separate the physiological from the psychological. There are ways to overcome what's holding you back and the practitioners at Williamstown Health + Lifestyle local to Yarraville, Altona, Footscray and Melbourne are here to help, whenever you're ready.
We can help you on your wellness journey providing support, exercises, pain relief and guidance. Click below to our booking page to learn how we can assist you.